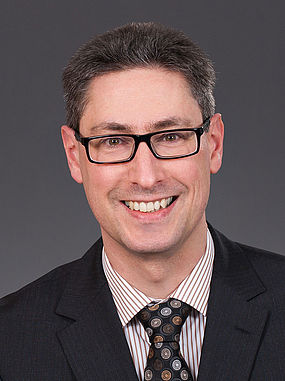 Prof. Dr. rer. nat. Markus Egert
Vice Dean for Teaching 
Dean of Studies Molecular and Technical Medicine (MTZ)
Faculty of Medical and Life Sciences
Schwenningen  campus
Room D 1.05
Phone 07720 307-4554
Vita
Professional career :
born 1972 in Göttingen, married, 3 children 
Geoecology and Biology Studies (Diploma) at the University of Karlsruhe (1992-2000) 
Scholarship holder of the Studienstiftung des Deutschen Volkes 
PhD and post-doctoral studies at the Max Planck Institute for Terrestrial Microbiology, Marburg (2000-2004) 
Post-doctoral studies at the Wageningen Center for Food Sciences / Microbiology Laboratory, Wageningen University, NL (2004-2006) 
Head of Laboratory at Henkel AG & Co KGaA, Dusseldorf and Hamburg (2006-2010) 
Professor of Bioanalytics at Coburg University (2010-2011) 
Professor of Microbiology at the HFU (since 2011) 
Assistant lecturer for microbiology at the University of Applied Sciences Rottenburg (since WS 2012/13)
Field of activity
Teaching areas :
Applied Microbiology 
Molecular microbiology 
Body, household and industrial hygiene  
Diagnostics of microorganisms 
Analysis of microbial communities 
Research projects :
since 2012: several R & D industrial cooperations in the field of "Microbiology and Hygiene"
2012-2014: "Project Lipid-SIP: Use of SIP Technology to Identify Lipid Metabolizing Microorganisms in the Human Digestive Tract." Mobility Support for a Scientist Exchange between AgResearch Ltd., Palmerston North, New Zealand, and the HFU, funded by the Federal Agency for Agriculture and Nutrition (FKZ 01 / 12-13 NZL) and the New Zealand AGMART Fund (Grant 1273)
2013-15: "Project Präbio-SIP: Identification of prebiotics-metabolising microorganisms in the digestive tract of mice by means of stable isotope sampling of nucleic acids". Funding under the program "Innovative Projects / Cooperation Projects" of the state of Baden-Württemberg
2016-2019: "Project immENS: Interaction of Microbiome, Motility and Gastrointestinal System (ENS) in the Gastrointestinal Tract Funded under the FHprofUnt Research Program at FHZ 03FH036PB5.
Office hours
During the lecture period: Thursday, 11: 30-13: 30 
In the semester break : by appointment